Do it yourself in any of our Self-serve wash bays. Now accepting Credit Card or Mobile Pay options! Simply scan the QR to start your account today!
Learn More
Get clean quickly and easily when you go through our Automatic Bays. Whether you need a quick rinse, or a deep clean, we have you covered!
Learn More
Welcome To Dukes!
At Dukes Car Wash and Detail Center, you are our first priority. We pride ourselves in making sure your car is done right!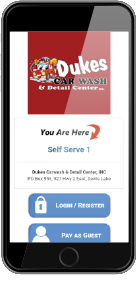 Manage Your Account Online!
We have made paying for your car wash even easier to do with our mobile payment option! You can create your account today, or do so when you scan the QR code on site. You can manage your mobile account balance, pay on-demand, or manage your card.
Questions? Comments? Contact us and let us know how we are doing!
Client Testimonials
★★★★★
This is the best darn gas station around OK. I go here every time and I have been to all of them. It's a nice machine and does a fantastic job gettin...
★★★★★
Still uses dollar coins good wash when I'm on the road...
★★★★★
One of the best car washes in the upper Midwest...
★★★★★
Best touchless car wash...
More Reviews